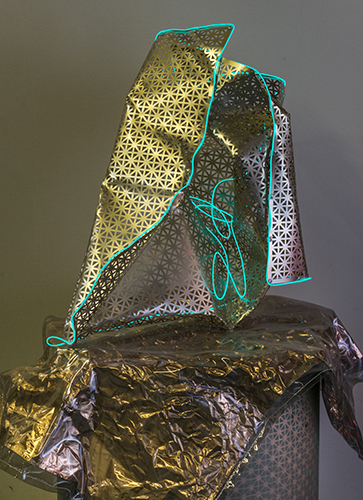 Illumination: the sculpture of James O. Clark
James O. Clark arrived in New York City in 1977, in the midst of a particularly lively time in the art world. The decade before had seen the flourishing of earth works, conceptual art, minimalism, installation, performance art, large-scale sculpture, and much more, and these various hybrids continued to intermingle and generate new ideas and new possibilities. A host of galleries had opened to embrace this vast outpouring of creativity. Among the most important venues of the era were the self-named galleries of Leo Castelli, Paula Cooper, and Ileana Sonnabend, as well as Richard Bellamy's Oil and Steel, Ivan Karp's OK Harris, and Max Hutchinson's Sculpture Now. In addition, the city's robust public art program offered a variety of opportunities and venues to show contemporary work.
Clark had grown up in Coatesville, PA, the home of Lukens Steel, one of the oldest mills in the United States. He had seen the paintings of Adolph Gottlieb in the textbook of an eighth-grade art history class, and this early encounter with abstract art inspired him to ever greater experiments in his own work. After high school he spent two years in the army. He then pursued an art major at Kutztown State College, where he took classes in drawing, painting, and sculpture, and graduated in 1974. James Carroll, a long-time teacher at Kutztown, ran a vigorous visiting artist program, and over the years had a remarkably diverse group of people come to the campus and speak to the students. Among the artists during Clark's time there, he met the sculptor Richard Serra. Clark was struggling at that time with an outdoor installation, and Serra told him about Robert Smithson's work on
Spiral Jetty
(1970) and encouraged Clark in his projects.
Over the years, Clark has deployed the practical skills that he developed in his various jobs with great imagination in creating his artworks. During college he had worked as a brakeman on the railroad, and made sculptures from the scraps of metal he found along the tracks. As he recalled, "the job was physical, but it gave me the opportunity to familiarize myself with materials and helped to generate ideas for sculptures that I would later create." After leaving the railroad job, he worked for a company that installed fluorescent and neon lights, and soon began to incorporate elements of light in his artworks as well.
When he arrived in New York, Clark stayed with a friend while looking for a place to live. After three or four months and a few false starts, he found a loft on South Street by the East River. Here, he was joined by his wife, Linda, who worked as a substitute teacher in the city elementary schools, and as an artist's assistant. The building, where they occupied the fifth (and top) floor, was near ruin, with holes in the roof and floors, no working plumbing or electricity, and many broken windows. Other artists soon moved into the building, including the sculptor Kiki Smith, and the painters Bill Jensen and Margit Lewczuk, who lived on the floor below the Clarks. Jensen and Clark worked together on the plumbing, while building out their own spaces.
Jensen had a studio in Williamsburg, in Brooklyn, with the sculptor Robert Grosvenor, and they encouraged Clark to rent space for a studio in the same building. After a few years on South Street, the Clarks were evicted from their space—landlords often kicked out artists after they had done restoration work, in pursuit of higher rents—and moved into his Williamsburg studio. In 1983, they purchased an old schoolhouse in Williamsburg and began the long process of restoring it as their home and his studio. These various renovation and restoration projects were also a part of Clark's creative process, a chance to build new environments and to think about the ways that space can be structured and experienced.
Through Jensen, Clark met the sculptor Ronald Bladen, who became a close friend as well as a staunch supporter. (Clark is now one of the managers of the Ronald Bladen estate.) Another important sculptor in Clark's New York circle is Mark di Suvero. They met in the early 1980s, and di Suvero started coming to Clark's exhibitions. Over the years, he has been very generous and supportive of Clark's work. Having these examples, these role-models, of working artists offered guidance and inspiration to Clark in his artistic journey, and it's an experience he tries to create and share with his students as well.
Clark has taught at many institutions, including Bard College, Princeton University, and Brandeis University, as well as Skowhegan School of Painting and Sculpture, with a long and ongoing stint at the School of Visual Arts in Manhattan. He brings his expansive notion of art making to his work with young artists and views teaching as an opportunity for mutual learning, asking questions together. In the classroom, during critiques in students' workspaces, and on visits to galleries and artists' studios around the city, he encourages the students to learn and discover on their own, to find and create the community that will sustain them in their artistic journeys.
•
Over the course of his career, Clark has worked with a remarkable range of materials—metals and plastics of all kinds, as well as balloons, bubble and fog machines, chickens, glow-in-the-dark paint and tape, and a vast array of found objects and urban ephemera. His most consistent material is light, and here too he has explored a wide variety of solutions, including neon, fluorescent, incandescent, argon and black lights, and electroluminescent wire. With these, he has created a body of work like no other in contemporary art.
Artists observe and reimagine what they find in their environments, and artists as various as Mark di Suvero, Louise Nevelson, and Gordon Matta-Clark all found their raw materials and inspiration in New York City itself. Like these artists, Clark's work draws ideas and substance from the urban landscape—sourcing materials throughout the city, and in the remarkable mix of objects that can be found on the street. Always on the lookout for new materials, Clark saw the polyethylene sleeves that are used to bring fresh air into a building during asbestos removal, and realized that the inflated quality could be used in sculpture (
Skin Ego
, 1998). He also relates that "sometimes, when disassembling non-art objects, I find elements that need new homes in the sculptural world," such as the truck door in
Ranger-Optic
(2004–05). Clark brings his own fascination and delight to these materials, revealing their possibilities and investing them with new purpose and new meaning in his artwork.
In thinking about and in building his work, Clark talks about his process as one of collaboration with his materials, experimenting and allowing opportunities for chance and discovery. He doesn't see his role as maestro, solely directing the process of creation. In this way his practice can relate to that of John Cage and Merce Cunningham, who both independently and in their work together incorporated randomness and happenstance into their work. They were each very open to the questions of what kinds of sound could be elements of music, and what sorts of movement could be considered dance.
Clark names Dan Flavin as an artistic inspiration, and it would be hard to talk about artworks incorporating lighting elements without considering Flavin's sculptures and installation. Using simple, mass-produced fixtures, his work drew viewers into the experience of light and color. Where some works follow minimalist tropes of series and progressions, others, in their use of different color combinations, create almost watercolor-like washes on all sides of the galleries and lofts where they were installed. While Flavin embraced the sleek sameness of manufactured bulbs and fixtures, Clark's work has a very clearly hand-made feel to it. Found objects keep their rough finishes, wiring is often left exposed, and methods of manufacture are often evident.
In many ways Clark's work relates to the sculptures of the Swiss artist Jean Tinguely, which, with their rough edges, irregular parts, and unclear function, evince a remarkable range of personality. Both artists have explored kinetic sculpture, and have created artworks that themselves can create artworks and in the process become a kind of performance as well. Tinguely built a series of what he called "metamatics," which held either sheets or rolls of paper, and could produce abstract art with pencils, crayons, or paintbrushes. Sometimes the paper moved, sometimes the pencil, and sometimes both. In
Chicken Etching
, (2012–15), Clark created a copper printing plate by placing the plate at the bottom of a small tub, scattering corn over the plate, and then putting a chicken in the tub to eat the corn. The pecking and scratching of this avian collaborator marked the plate, which Clark then used to create an edition of prints. (Each print is sold with a video of the chicken at work.) Another art-making machine is
Wunnerful Wunnerful
(2012–2019), a large construction with bubble machines mounted on three posts, fronted with ultraviolet fluorescent lights. The bubbles are infused with paint and float down onto sheets of paper which move on a rotating drum. In a 2019 exhibition at the American Academy of Arts and Letters in Manhattan, Clark hung paintings generated by
Wunnerful Wunnerful
on the walls of the room where the sculpture was installed. Like the drawings generated by Tinguely's metamatics, the work by Clark's chickens and sculptures is a wry commentary on abstract art, and particularly abstract expressionism. While each of these artists is deeply dedicated to the work they make, they are skeptical of a sometimes over-serious art world, poking a bit of fun with their thought-provoking work.
•
The works in this exhibition were created from 1993 to 2020 and present a broad range of Clark's investigations of light, color, and form. The different materials that Clark uses as a companion to the light source of each work create a range of experiences of transparency and opacity, and reveal the ways that color changes as it reflects off of or passes through these materials. Wall pieces such as
Yellow Vinyl
(2010), and a series of larger works including
Untitled Green Piece with Barrel as Pedestal and Crate
(2013), present layered experiences, with the plastics and metals overlapping and separating, and the electroluminescent wire and the ambient light of the gallery creating reflections on these surfaces. Here the light element can both highlight the edges of the form and separate to move out and around the work, a complementary sculptural form as well as an independent drawing.
In the vinyl and tube-light sculptures, Clark uses the softness and flexibility of the vinyl to create fluid abstract forms. The vinyl can be a long sinuous wall, such as
Orange Rune
(2012), or a twisting enfolding form, like
Mint
(2017–18). The straight rods of light piercing these different structures emphasize the sensuous curves. With
Coruscate
and
Reflective Moments
(both 2018) the structural materials and the lighting sources are all twisting, curving and enfolding, and the mirrored plastic creates further visual distortions.
The Luminiferous Aether
(1995–2011) offers a different take on these ideas. Here, the vertical tube of light provides the infrastructure of the work, and the balloons cluster at the top like leaves or petals. The transparent, reflective surface of the balloons is activated by light from within and without.
Tibia Plateau
(1993–2011),
Skin Ego
(1998), and
Tralfamadorian #2
(2020) are more architectural in scale, fully occupying the space with the viewer, and these give a sense of Clark's installation work.
Clark's works are illuminating in every sense of the word. His sculptures create environments; the light of each work interacts with the whole space, the other sculptures, and with you, the viewer. As you're looking, you can become more attuned to your own experience of seeing. Observe the colors that appear when, for instance, green light meets a white wall, or a red shirt, or a blue knapsack; the colors that reflect off a nearby work, shining on metal or plastic or balloons. This act of discovery can only happen with time, and it's a physical as well as mental experience. As you move around the work, looking at it from different angles, the light is in constant interaction with every object and every surface around it. The sculptures await your participation.
Catalog essay, August 2021